L.G. Cook 4-H Camp is a Non-Profit Organization. We strive to keep all of our fees as low as possible, so no camper will be priced out of Camp. However, it takes a lot of time, effort and (unfortunately) money to keep our 65 year old facility going and improving. 

This is where your charitable donations come in. We rely on the generosity of our Camp Family, so we can keep offering the same classic Camp experience for generations to come.
The best way to take care of Camp and help ensure it is here for generations to come is to send campers to Summer Camp! A full summer camp enrollment helps ensure a healthy Camp community, and any empty bunk represents a kid who could be enjoying the camp experience. We hate empty bunks. Word of mouth is our greatest marketing tool, and we thank those who recommend new campers to Camp with membership in our Lantern Family Program.
Membership is simple; just refer one brand new camper to L.G. Cook 4-H Camp. In turn, our Lantern members will receive an exclusive invite to our Lantern Family Summer BBQ, our annual Lantern T-shirt, and $50 off your camper's registration for the following summer for each camper referred. It's our way to help you help Camp, and of course the greatest benefit of joining our Lantern Program is to point a new child toward a fantastic Summer Camp experience here at L.G. Cook.  Click here for More Details.
This program is aimed at graduates of our Counselor in Training course who are no longer able to attend camp as campers because they have aged out of our program. Our Junior Counselors volunteer their time and attend a week of Summer Camp free of charge.  During this week, they reside in a cabin with our youngest campers, assist with running classes and activities, and help out around Camp in all sorts of ways. It's a great opportunity to give back to the Camp community, and to get a taste of what becoming part of our counselor staff in the future could entail. Many of our staff have been through both our CIT and Junior Counselor programs. (Junior Counselors assist with the Camp program, but are not in a supervisory position and are never alone with campers.)
A group of former staff and Camp alumni. Essentially a "friends of L.G. Cook" group, our Campfire Council works to benefit the summer program. This includes helping with year-round events, organizing fund-raising efforts, and working to help spread the word about Camp and better the health of the Camp community.  
If you are interested in joining the Campfire Council, you can e-mail us here.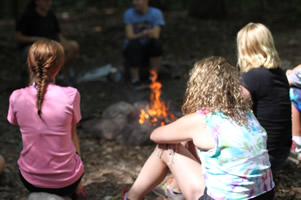 We are always accepting donations to our Murphy Fund, which provides camperships to children who wouldn't otherwise be able to afford a week at Summer Camp. To learn more about the Sponsoring a child to Week of Camp, please click here.
There are plenty of ways to help Camp. We have a few Community Service days throughout the year where volunteers help us prepare Camp for the winters, open Camp back up for the spring, and help with a variety of projects around the facility.