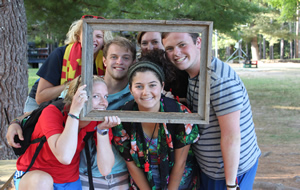 We strongly believe that what makes a great Summer Camp is a great staff.
Our summer staff jobs are all residential "'round the clock" positions and the contracts run for the entirety of our two month season, from late-June to mid-August.  We're looking for hardworking, enthusiastic, positive, responsible people to dedicate two months of their lives to help create a safe, fun, transformative summer camp experience for our campers.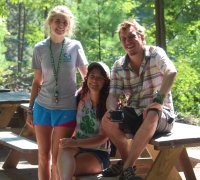 The heart of the summer staff is our cabin counselors. Our counselors are typically college aged, and must be at least 18 years old. In addition to living in the cabins with campers and supervising them during the entirety of their stay at Camp, our counselors teach our courses, run all Camp activities, and generally exude a great positive energy and camp spirit.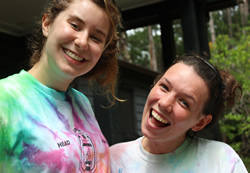 For more details, read our counselor letter.
Through a wonderful organization called Camp America, we also hire several international counselors every season. Meeting new people is an integral part of 4-H Camp, and we are proud to give our campers the opportunity experience some cultural diversity by bonding with some enthusiastic young role-models from overseas.
In addition, every summer we hire a Senior Staff team to administratively run and design the Camp program, a full kitchen crew to provide meals and operate our kitchen, and other support staff. These staff typically reside away from the cabins in our staff units and work tirelessly at all the behind the scenes tasks that make Camp run.
If interested in any of these position, please inquire for details at the Camp Office or Apply online.