Back in Summer 2018, we enjoyed an all-time high mark in camper enrollment.  This means more campers getting our classic summer camp experience, more  new friends to make in every cabin, and more memories that last a lifetime. One of L.G. Cook 4-H Camp's trademarks is our intentionally small camp community, where all of our campers get one-on-one focus from our counselors and staff, and by the end of the week there are no strangers here at Camp. This small community will be what we offer here at Camp, but we have found that small community is at its best when it's as full as possible! 
Therefore, for Summer 2019, we are looking forward to building on last year's successful enrollment, and offer a quality, transformative week at Summer Camp to as many campers as possible.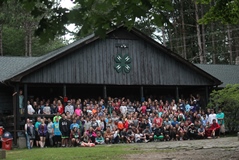 Cost of a Week at Camp
Standard Camp Rate - $650
Early Bird Rate 1/1/19 - 3/15/19 - $600
Polar Bear Rate 12/1/18 - 12/31/18 - $575
4-H/Rutgers Discount – Minus $25
Sunday Early Drop Off - $100
Apply any discount codes at time of registration. We cannot accommodate any discounts after the time of registration.

Check back soon for our new classes for 2019!
Sunday, June 30th:

A special summer kick-off event, just for our Lantern Family members who have helped Camp by referring a brand new camper for the 2019 season. It will feature a meet and greet with the staff, a sampler of our summer camp programs, some lawn games by the lake, and great BBQ meal to celebrate that Summer Camp is here again.
Plus, Lantern campers attending Session #1 get to stay and begin Summer Camp right away when the BBQ is over.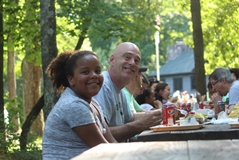 Themes are like the spice of a Summer Camp week, a way for us to "switch it up a bit" for each session of the season. 95% of every Camp week features the same great classic Camp schedule and activities, but each theme brings its own unique twist. Every Wednesday night we'll have a theme activity, and the theme will always dictate Friday afternoon's culminating all-camp game. The theme will also influence our campfires, talent shows, and what crazy costumes our counselors might be donning that week. We always recommend parents pick the session (or sessions) that fit their schedule best, but if a specific theme suits your camper, that just might be the best week for them to come to Camp!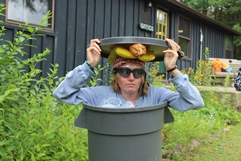 July 8th-13th

Session #2 Theme
To Be Announced
Soon!
July 15th-20th

Session #3 Theme
To Be Announced
Soon!
July 22nd-27th

Session #4 Theme
To Be Announced
Soon!
July 29th-August 3rd

Session #5 Theme
To Be Announced
Soon!
August 5th-10th

Session #6 Theme
To Be Announced
Soon!
August 12th-17th

Session #7 Theme
To Be Announced
Soon!