Once a camper spends a week at L.G. Cook, they become a crucial part of our Camp Family.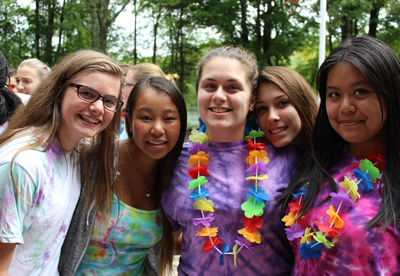 L.G. Cook 4-H Camp first opened our cabin doors in summer 1951, and we've been running our sleepaway summer camp program every single season since.  
A lot has changed, but more has remained the same. Each summer we endeavor to follow the 4-H motto to"make the best better" by improving our facility in little ways and adding new programs, new activities and new ideas. However, at our heart (and in a lot of other ways too), we're still that same classic American summer camp that welcomed its very first campers in the summer of 1951.
Since then tens of thousands of campers, counselors, volunteers and families called 4-H Camp their home away from home. Each individual discovered what a special piece of the world exists here in the forests of Stokes, along the shores of Lake Shawanni, and became a part of the camp family. If you were one of them, we'd love to stay in touch! Follow the link below to join our Campfire Council's Alumni Network. It's a great way to keep you up-to-date on the goings-on at 4-H Camp, to get you invites to Camp events like our Lantern BBQ, and to have our alumni involved to support some of our exciting new projects.
Four campers are chosen every week of camp that exemplifies the spirit of 4-H Camp. We hold a special candle light ceremony on the last night of camp to honor these individuals and to applaud their excellence at camp.
The counseling staff team recommends campers for these awards. They look for campers that exhibit clear thinking & good decision making for the Head Award. They look for someone who cares for others and tries hard in everything they do for the Heart Award. Campers who reach out to help others and serve camp are often nominated for the Hands Award. And the Health Award is given to those who have striven to make themselves and others better through participation in a healthy camping experience.
Here are what people have to say about our camp.
More information coming soon!