Spring Family Picnics
We are offering individual families a chance to spend a little quality time at 4-H Camp this spring during the weekends of April and May.
Families will be able to stroll around our facility, hike some trails right here at Camp or venture out into Stokes State Forest, go fishing, and just enjoy the spring scenery surrounding Lake Shawanni.
Social distancing measures will be in place. Picnics are limited to the persons in a single household. Other than access to a rest room and our Rec Hall during inclement weather, families will not have any access to buildings or indoor facilities. In accordance with Rutgers University Health and Safety policies, staff will not be on hand to assist with programs, but your family can enjoy the rare opportunity of having 4-H Camp almost entirely to yourselves.
These picnics will be part of our "Make the Best (LOOK) Better Campaign" as we work to have L.G. Cook 4-H Camp looking better than ever before to welcome campers back this summer.
Picnic days will have a window of availability from 10 am to 4pm. Your visit can be any time within that window.
Families can book a 4-H Camp visit one of two ways, either by paying a fee that will go directly to support facility improvements and upkeep, or by volunteering to help complete a service project during your visit.
If you would like to inquire about another date, please contact the Camp Office (973-948-3550). Certain weekdays may be available upon request.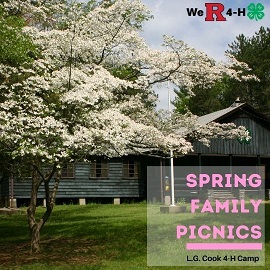 Click below for online registration.

Or give us a call at the Camp Office (973-948-3550) to discuss more details!